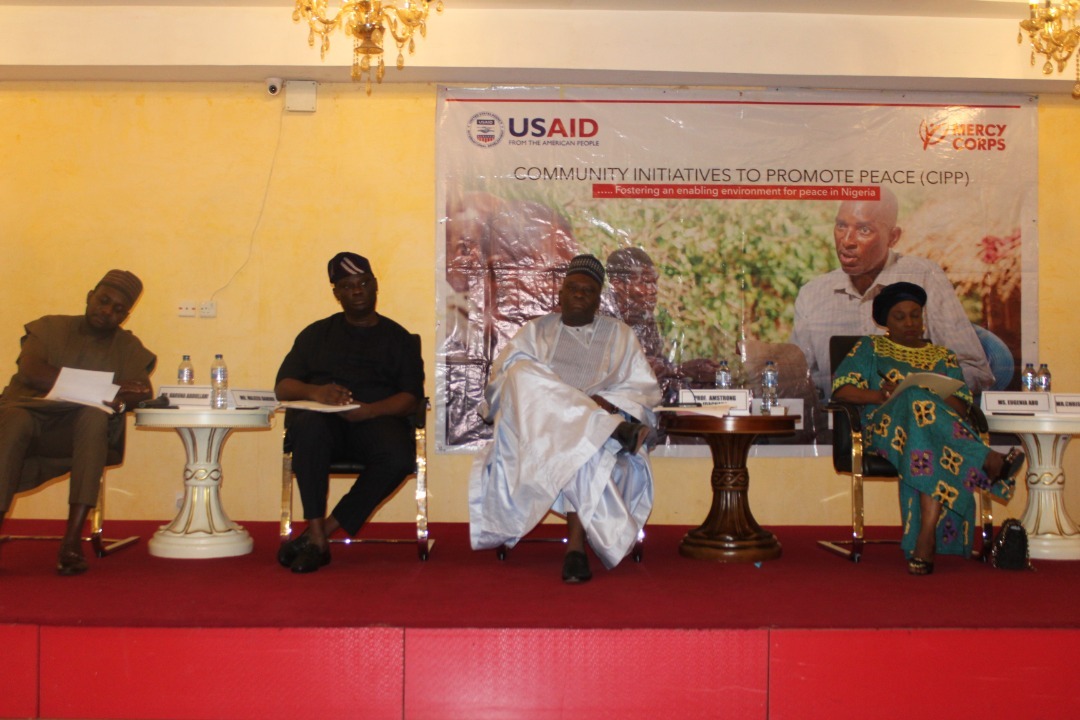 Savannah Centre Holds 5th National Policy Desk Review on the Community initiative to Promote Peace Project in Abuja.
The National Quarterly Policy Desk Review is a once in a quarter activity which is aimed at creating awareness and analyzing evidence-based assessment on the relevant existing States and Federal policies vis-à-vis developing policies/bills that could influence conflicts, policies that prevent violence addressing root causes of conflict (e.g., policies related to natural resource management, labour inclusion, and anti-discrimination laws), and policies that respond to violence (e.g., national and municipal policies and appropriations related to policing, counter-trafficking and counter-terrorism). The National Quarterly Desk Review (NQDR) which took place on Monday, 16th August 2021 at Bon Hotel Elvis, Wuse 2, Abuja had in attendance participants from the Civil Society Organizations, Youth and Women Groups, Persons with Disabilities, Government Officials, Legal Practitioners, Media Experts, policy analysts and Academia.
The programme which started with the second stanza of the National Anthem was followed by a warm opening remark by Sir Bola Abimbola, Senior Program Manager, Savannah Centre, on behalf of the Executive Director, Savannah Centre, who commended all stakeholders for their show of effort to ensure Nigeria, is a better place for all with the singular honor of being present. He further urged all to be open in the review and most importantly be realistic and constructive in divulging the two major emotional and contentious policies. He further thanked the Community initiative to Promote Peace (CIPP) partners Mercy Corps, Interfaith Mediation Center (IMC), Patorial Resolve (PARE) and Africa Radio and Drama Association (ARDA) for contributing immensely at all levels mitigating violence in at-risk communities to continually seek peaceful co-existence and national unity.
A blend of plenary sessions was deployed to divulge the loopholes in the Electoral Act (Amendment Bill) 2020 and National Press Council Amendment Bill (Media Regulation Bill). Which stated with a paper presentation by Professor Sadeeque A. Abba, Deputy Vice-Chancellor Administration, University of Abuja on: "Fostering a Peaceful Nigeria through Accountable Electoral Act, Active Citizens' Participation and Stakeholders' Collaboration" followed by a 4- panel discussion comprising: of Barr. Bulus Atsen, Chairman Nigerian Bar Association, Abuja; Mrs. Yetunde Bakare, Senior Programme Officer, Legislative Engagement, Youth Initiative Advocacy Growth and Advancement (YIAGA Africa); Mr. Bukola Idowu, Executive Director, Kimpact Organisation and Ms. Ekaete Umoh, Country Director, CBM Global Disability Inclusion as well as an eloquent moderator, Kimberly Blessing Nwachukwu, Broadcaster, Nigerian Info which succeeded the lead presentation.
A second paper on "Mitigating Violent Conflict in the Nigeria's Polity through Effective Media Policy: Using NBC/NPC Media Act as Case Study" was delivered by Chief Christopher Isiguzo, President of the Nigeria Union of Journalists, discussing the paper was Ms. Eugenia Abu, Founder and CEO, The Eugenia Abu Media Centre; Prof. Armstrong Idachaba, Former Director General, National Broadcasting Commission; Majeed Dahiru, Media Practitioner as well as a seasoned Moderator, Mr. Haruna Abdullahi, Publisher/editor in chief world entourage magazine,
Some of the persons that participated in the event include but are not limited to, Iyobosa Uwugiaren, General Secretary Nigerian Guild of Editors (NGE), Yinka Oduniyi, President, Independent Television Producers Association of Nigeria (ITPAN), Pastor Dr James Wuye, E.D Interfaith Mediation Center (IMC), David Gatare, CIPP-Mercy Corps Chief of Party, amongst others.