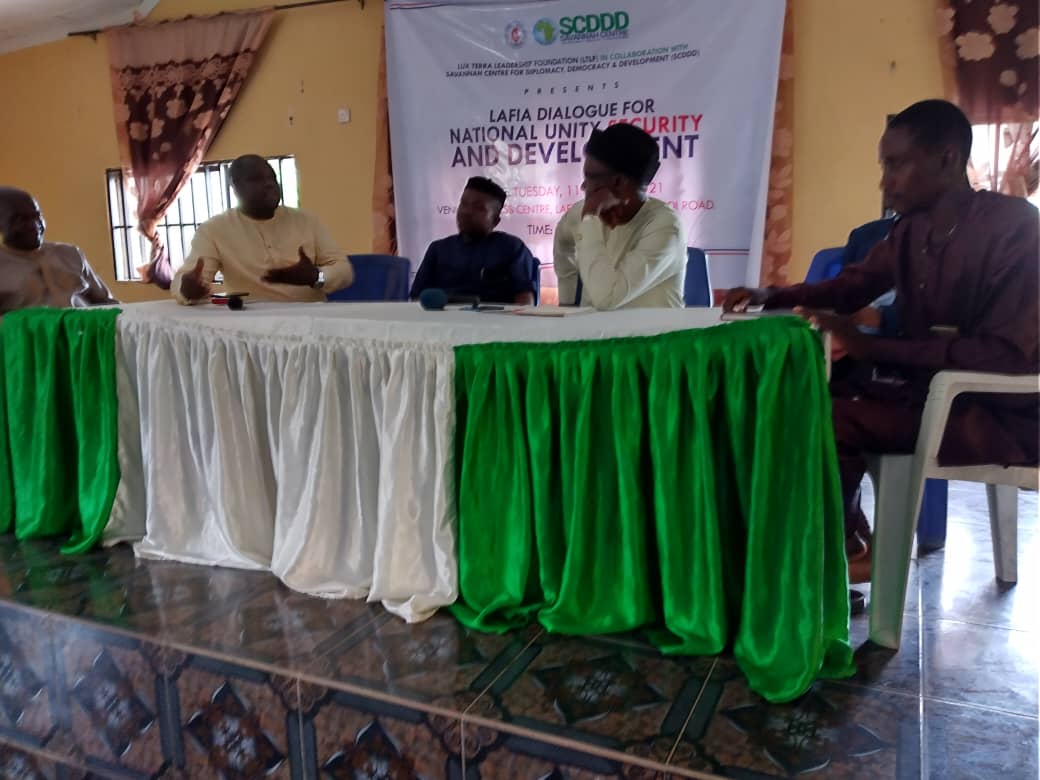 The dialogue series organised by Lux Terra Leadership Foundation in partnership with the Savannah Centre for Diplomacy Democracy Development (SCDDD) continued on Tuesday May 11, 2021 at the NUJ Press Centre in Lafia, Nasarawa State, with stakeholders from diverse ethno-religious and civil society organisations, as well as representatives of media houses in the state.
Executive Director of Lux Terra, Fr George Ehusani who was represented by Barr Mike Utsaha, stressed that at a time like this, there is need for Nigerians to sit together as a people, take a critical look at their challenges, and come up with workable suggestions on the way forward for the nation. He enjoined all participants to contribute meaningfully to the deliberations in the course of the day.
A Panel discussion on the topic, "Nigeria and the Political Economy of National Security, Unity and Development" featured the following among other panelists: Peter Ahemba, President Tiv Development Association in Nasarawa State, John Umar, President Mada Youth Association, and Chief Clement Ahar Uhembe, Lecturer, Federal University, Lafia (and former Commissioner for Higher Education, Nasarawa State).
The deliberations that followed the panel discussions occurred in a very peaceful and convivial manner. And at the end of the day participants commended the initiative and concluded that the unity of the Nigerian nation is sacrosanct and must be protected, even as they acknowledged the general leadership failure at Federal, State, Local government levels and the loss of values, as well as the widespread loss of core societal values.
The participants called for more active and responsible participation of the young population in the political process at all levels. They also resolved that for any nation to move forward, there must be peace and security and they called on the government to ensure that peace returns to Nigeria, no matter the price that must be paid. They said government at all levels should be more proactive in just and equitable project and policy implementation, in such a way that all segments of society are included in national development, and all are made to feel a sense of belonging. Such they observed, will help to reduce the crime rate in the society.
They expressed gratitude to Lux Terra and the Savannah Centre for the great job done so far, even as they look forward to the ongoing dialogue process being sustained, as a viable path to resolving the current challenges of the country.
The participants emphasized that the task of promoting the unity, development and peace of the nation is not one for political leaders alone but the collective responsibility of all Nigerians.